Blog
May 11, 2021 / Blog
The secrets behind hair transformations for a beauty campaign backstage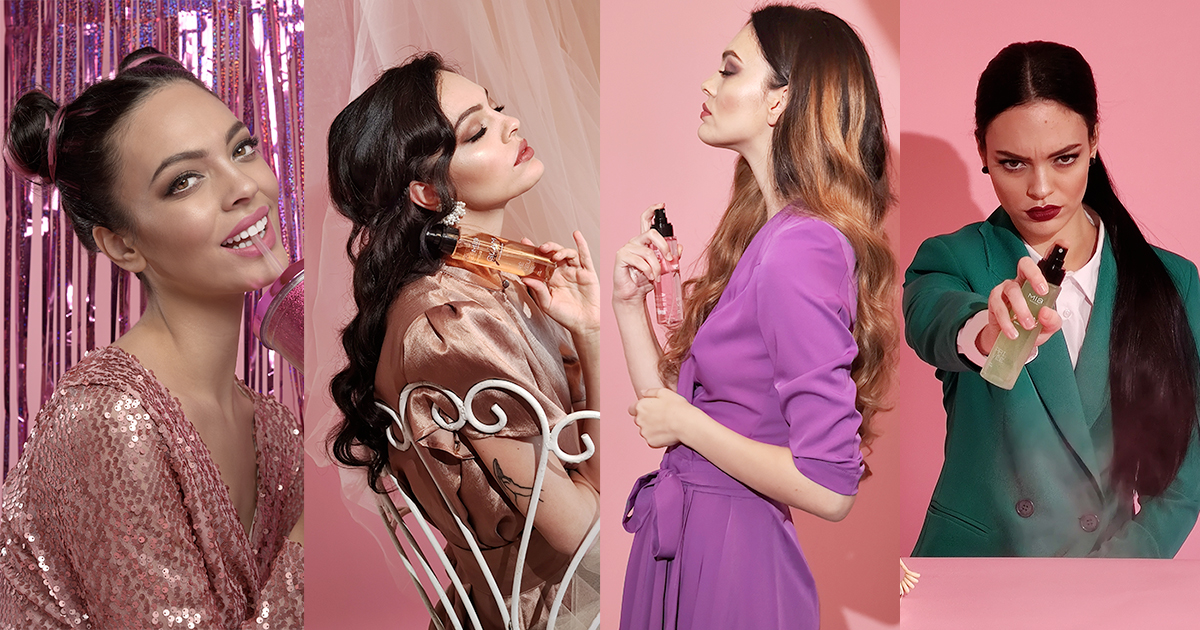 If you are a hairstylist often someone asks you to create different hair looks to drastically change a model's style during the making of an advertising campaign: from party girl to rock outfit through romantic and glam looks.
This recently happened to SEISETA Hair Extensions team for the italian cosmetic company MIA Makeup for the GLAM collection campaign photo shooting.
The collection proposes lipsticks and scented waters to fit every mood change that men and women feel everyday. So the company needs to show, through a beautiful model, how everyone can change looks, including outfit and hair style, combining a red lipstick for passionate moments, nudes shades for working days, deep purples when it's time to rock matching them with several fragrances!
What is better than different hairstyles to represent different feelings? As we know, women in particular love to change their hair whenever they want , so let's see how the SEISETA team created amazing hair transformations in just a few hours!
From short haircut to long hair: how to create an extra long, perfect and professional ponytail hair style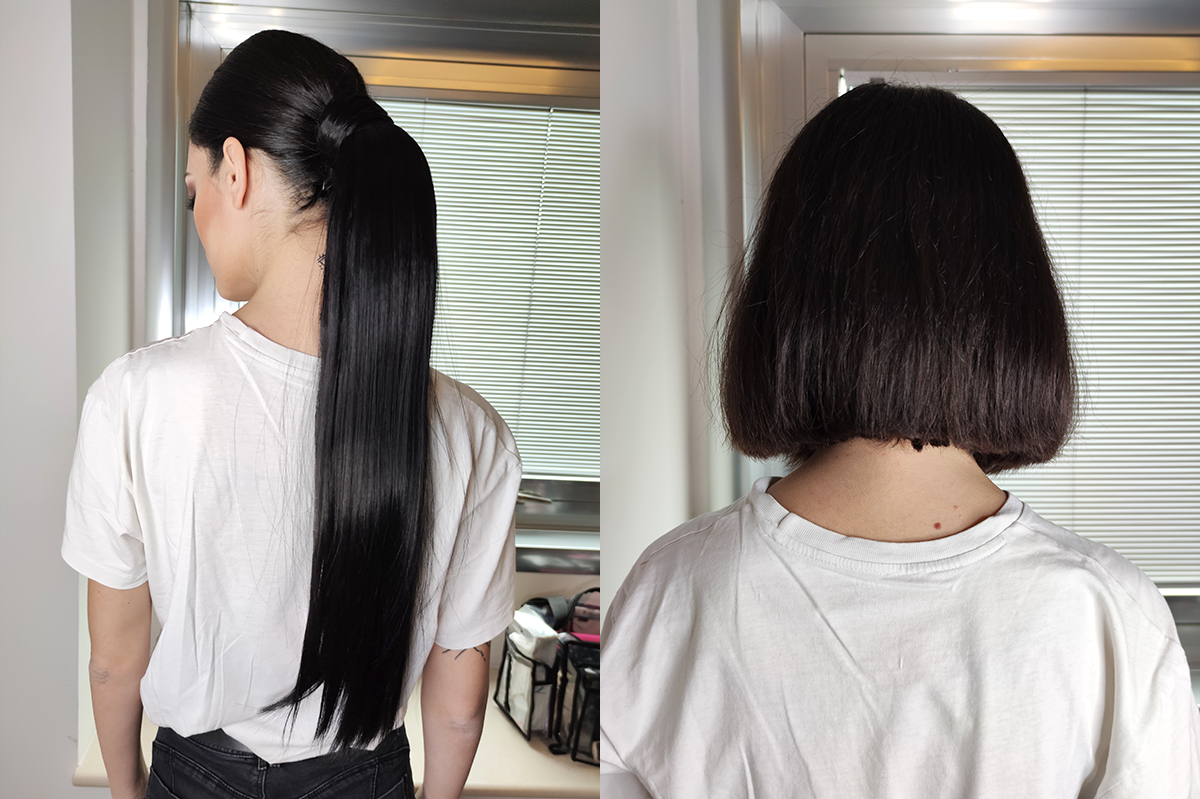 The first part of the commercial required a professional mood, where the model was sitting on her desk as CEO and working hard at her dream job. For this video frame the art director asks for a long and perfect ponytail to match an elegant teal suit. The ponytail was quickly styled by the SEISETA team using only two hair extensions toupees with clip-in system. Just a few minutes to see a huge change in the model look who easily personifies her role showing the matched lipstick and scented water.
A colorful hair touch with Crazy Color Hair Extensions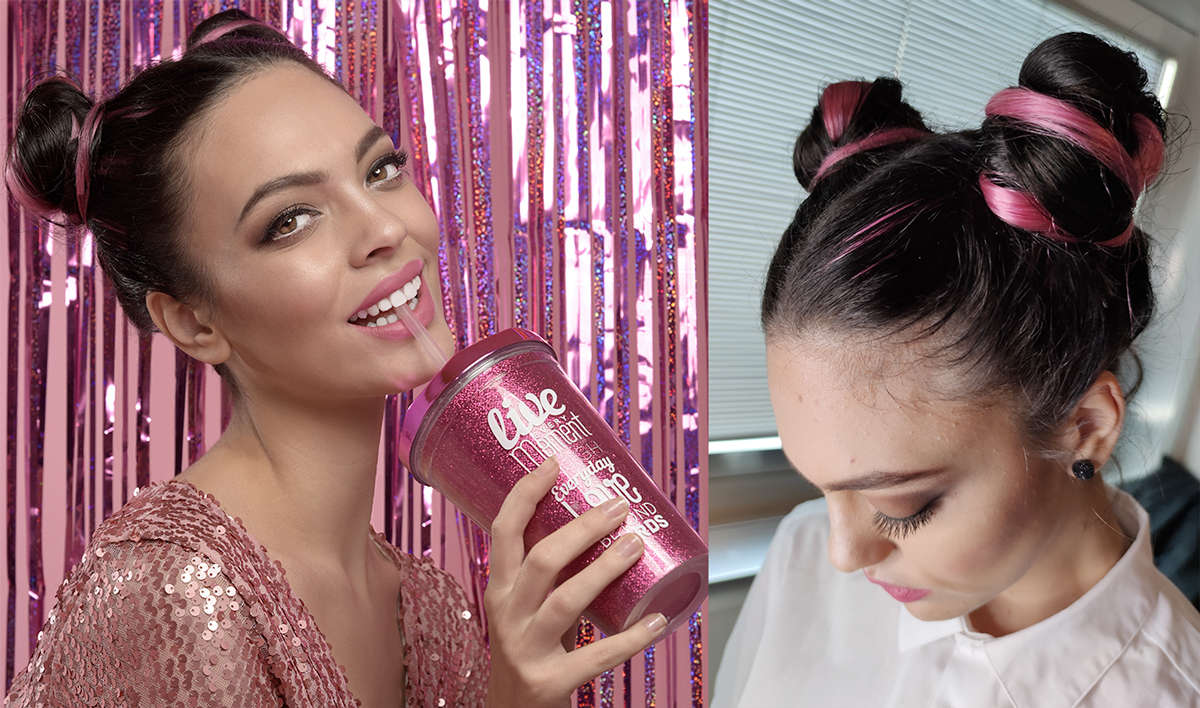 Using the same strands applied for the ponytail, the hair stylists decided to represent the second and more fun look by making two black and pink hair buns. In this way the model immediately becomes a bubbly party girl, drinking a cocktail in a sequined dress.
In less than 5 minutes, SEISETA masters created the extraordinary look only by using just a few strands of fuchsia INVISIBLE Clip-In hair.
Glam and romantic wavy hair style with hair extensions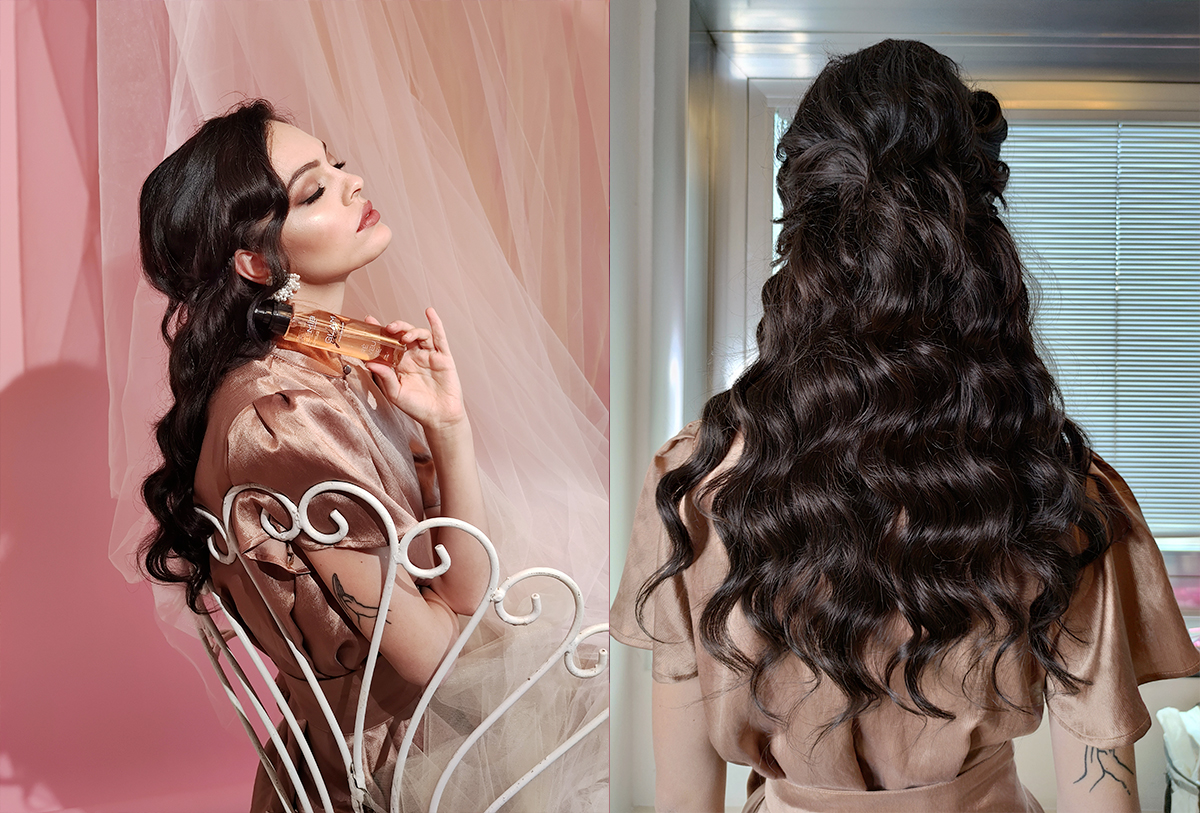 After this, it was time to show off the third and most romantic look of the day. For this mood SEISETA team decided to use a series of dark-colored hair extensions clips to create a full and wavy head.
So the model was ready again for stage, now for taking the part of the sweet dreamer in her new look.
Warning: always remind that you can use irons to style the extensions but don't forget to avoid very high temperatures on them (maximum 180°) and to always use a thermal protector such as SEISETA Hydr8 to preserve the health of the hair, hydrate and give a silky and smooth finish to both hair extensions and natural ones. Read more about how to take care of Hair Extensions!
From black hair to ombre without the use of chemicals, bleaching and time loss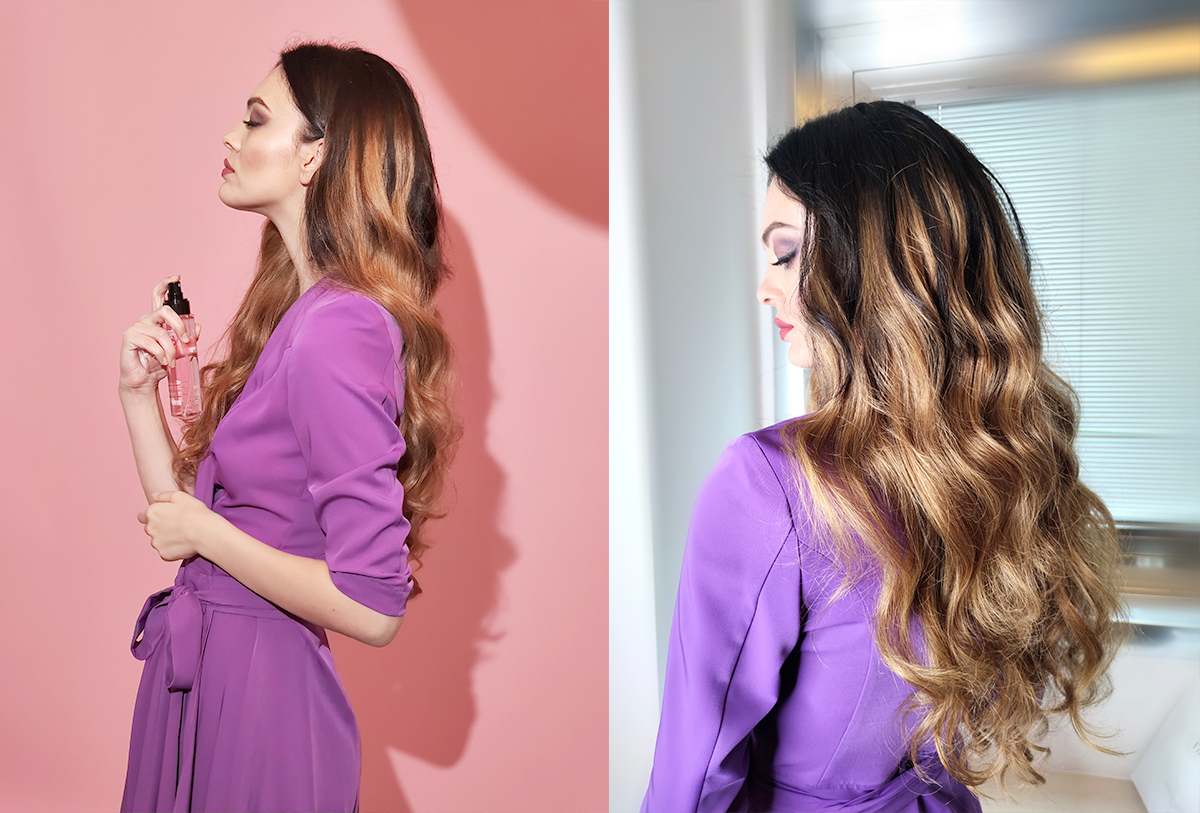 When you have a short hair model sometimes it could seem very hard to create several hair styles, but if you are a hair extensions master you'll never have competitors on hair look backstage!
For the fourth and final shooting look SEISETA team decided to give a touch of light to the model hairstyle by using Ombre color of the incomparable INVISIBLE Clip-in Hair Extension. The newest SEISETA creation which allows to change hairstyle even with a few amounts of strands, thanks to the invisible bond that can be applied on the top crown of the head without any visible application system .
Here with Ombre Hair Extensions another gorgeous look has been created for the beautiful Italian model who can be on stage again to show her intimate and secret side!
Thanks to these high performance, SEISETA Clip-In and INVISIBLE Clip-In Hair Extensions can be fashion hair stylist's best friend, who is everyday on a different backstage, offering endless possibilities of creations, for any different set needs, mood and campaigns!
Are you still working on fashion backstage without SEISETA Hair Extensions? You need to change your way of working and increase your portfolio creativity, choose SEISETA and improve your skills!